Tony Robbins Review
Tony Robbins – What can we say about the master 'motivator' that has not already been said?
Not a lot!
But, as we are dedicated to reviewing the best in personal growth, and after all Tony Robbins is the best, we could hardly leave him unmentioned.
If you have never had the opportunity to read or listen to Tony Robbins then you really do not know what you are missing. True he deals almost exclusively with financial matters, trying to provide sound information on how to build wealth. However, he does give valid information on goal-setting and goal achievement that can be used to reach your full potential no matter what your current objectives are.
Possibly the best products Tony has produced are 'Awaken the Giant Within' and 'Get the Edge' – although all his titles will teach you something. He really teaches you the psychology of 'Abundance'. Day 6 of Get the Edge is truly excellent. It has excerpts from his live seminars when Tony shares his own story about how he was in debt living in someone's laundry room and 'forced' to steal food from his local store. He also tells of a time when he had to buy a 30 year old suite from a 'thrift' shop in order to take a girl to a dance. In one particular bit he actually becomes quite emotional when telling a story about his uncle. He really makes you feel the hopelessness and unworthiness that he felt.
He tells of the time when he made the decision to make changes. But more than that he shows YOU how to do it too!
While listening to his story you begin to feel that anything is possible. If a janitor that had to take two buses everyday just to get to work can amass a 400 million dollar net worth then anyone can do it! He also tells of a UPS worker who also invested his way to 78 million dollars.
In 'Awaken the Giant Within' one of the first quotes you hear, before Tony even speaks is taken from Hannibal – the mighty Carthaginian warrior who lead an army of elephants and men across perilous mountains to take on the might of the Roman Empire:
"We will either find a way or MAKE one!".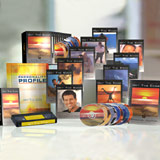 This sums up Tony's philosophy and by the end of the program you will think this way also. On Day 17 of Personal Power II Tony tells you how to condition yourself for wealth and how others have done it. He teaches you to condition pleasure with succeeding and pain with giving-up and procrastination. All his programs will give you insight into how your mind works and how to utilise modeling tools to create the life you want.
Conclusion

Tony Robbins has created products which are brilliant. There are tape and cd sets available and also the cheaper option in book form. If you are serious about personal growth then you should own at least one of his titles.
Probably the best is Personal Power II. Tony walks you through the processes necessary to dramatically change your thinking and actions in order to help you achieve success. This series gives very clear examples and exercises that, if followed, will lead you to the attainment of your goals.
His approach is innovative, definately pioneering and best of all it produces results!
You can check out Tony's own website for more details or take adavantage of the cheap deals offered at MindPerk or Amazon.


buy cheap Tony Robbins products at M!ND PERK.
Search for other Tony Robbins products.