Hypnosis Training Review
In order to learn how to use hypnosis correctly, and effectively, you need an expert teacher! With The Self Hypnosis Home Study Course you get one. The creator of the course, Steven Gurgevich, Ph.D., is a psychologist who specializes in behavioral medicine and mind-body medicine. He has created this teaching resource with a view to healing. However, the course outlines ways to break unwanted habits, boost mental agility and achieve whatever you set your mind to achieve!
Gurgevich is a faculty member at the University of Arizona's College of Medicine. Here he teaches mind/body medicine to physicians. He is an approved consultant of the American Society of Clinical Hypnosis and also provides training to professionals. Dr. Steven Gurgevich is of the belief that the body and the mind share a bond.
The Self-Hypnosis Home Study Course is presented in a multimedia curriculum which, firstly, teaches you to tap into the mind-body connection to optimize physical health. It features the "Hypnotic Apothecary" that has over 20 specialized hypnotic applications to relieve pain, assist in weight loss, heal skin, boost immunity, achieve goals and much more.
The Self Hypnosis Home Study Course has a heavy emphasis on healing. However, it does teach you how to eliminate mental blocks and the methods taught can be used to program your mind to achieve any goal you set yourself.
The Self Hypnosis Home Study Course is a comprehensive and highly effective multimedia program that really does teach self hypnosis. It includes 6 course work CDs, a 107 page workbook, and 10 CD's of trancework called hypnotic apothecary.
Gurgevich gives you a wide variety of induction methods and actually encourages you to ignore what he is saying if you prefer another induction method.
The course work covers a lot including induction methods to enter a trance state, methods for achieving and deepening trance and also covers common myths and misconceptions about hypnosis.
The workbook gives the information from the six cd's of course work in review form. This acts as a great reference guide.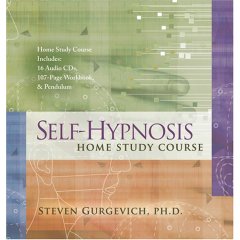 The ten CDs of trance induction and trance work, known as hypnotic apothecary, cover everything you need to know to get the most out of a hypnotic session.
The Hypnotic Apothecary covers everything from relieving anxiety, depression, eliminating phobias and pain to achieving a healthy weight and developing a love for exercise. It also includes trancework for relieving headaches and back pain.
If like myself, you have ever suffered from IBS or digestive disorders the trancework for healthy digestion will be invaluable. There are sessions for wart removal, boosting the immune system, deep relaxation and improving sleep. And if you need a boost in confidence and self esteem there is a cd for that also.
Conclusion

If you want to learn hypnosis then get this course! The techniques and guidance you are given are excellent and you will be skilled at self hypnosis within a very short time.
Dr. Gurgevich has a soothing voice and offers positive suggestions that resonate with both the conscious and subconscious mind. Getting into a trance state is easily achievable as Dr Gurgevich encourages you to find the induction technique that works best for you.
Gurgevich teaches you how to use a pendulum, which is provided with the course, to access your mind/body connection and shows you how you can allow your body to talk to you. But it doesnt stop there!
The ten CD Apothecary covers everything from easing anxiety, unlocking creativity, learning the Relaxation Response, banishing pain & loving exercise to healing your past emotional hurts.
This course is the best we have found for learning Self Hypnosis. Although it is packaged to appeal to people who wish to heal their bodies it is a course that will make you an expert at getting yourself into trance and gaining access to the subconscious mind – and once you do that there is nothing you cannot achieve!