with Joe Vitale & Brad Yates
Money Beyond Belief is a full audio course based on the self-improvement technique known as EFT (Emotional Freedome Technique). The course materials are delivered in mp3 format and divided into different EFT sessions. These session are presented by Dr. Joe Vitale and EFT specialist Brad Yates.
You may already know Joe Vitale as the world renowned manifestation teacher who featured quite heavily in the DVD presentation The Secret. It is likely that you may not have heard of Brad Yates – though his popularity and exposure is growing every year.
Brad Yates is an Abundance Attracting EFT teacher I came across through Bob Doyle's wealth beyond reason course.
Yates started his career as a hypnotherapist until he discovered the potential and power of using EFT.
The Benefits of EFT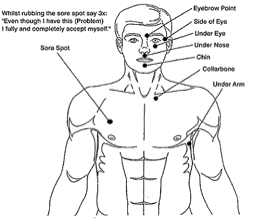 EFT, or Emotional Freedom Technique, is based on the ancient Chinese therapy of acupuncture.
Like acupuncture EFT is designed to clear the emotional blockages in your own energy field which are caused by negative emotional upsets.
These blockages are thought to be energies that have accumulated at specific meridian points in the body and by tapping those points you can clear the blockages.
However unlike acupuncture, which requires sharp needles, EFT only requires you to tap on certain acupuncture points with your fingers.
By clearing away these negative emotions we clear our thinking and our focus become much more positive.
Get Money Beyond Belief Now!
Who is Joe Vitale?

Joe Vitale is an American author and metaphysicians who has a background in writing and hypnosis.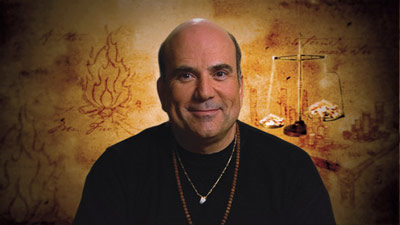 He is a well known figure in the self improvement and one is a best-selling author of a myriad of personal development books and DVD titles.
He was also predominantly featured in the huge hit The Secret.
Joe, born on December 29th, 1953, and before learning how to use the Law of Attraction to create the life he desired he went through a spell of homelessness and extreme poverty.
Despite these hardships Vitale taught himself how to change his life and embarked on a marketing and writing career.
He is considered to be one of the best copywriters of the modern era. His published his first book back in 1984 and since become a best-selling millionaire author.
Vitale has also been involved in many best-selling audio programs as well as films and documentaries.
Two of the most successful Nightingale Conant audio programs are works by Vitale – The Awakening Course and The Missing Secret.
Joe Vitale has become such a big name in the self improvement and personal development field that he has appeared on TV shows like Larry King Live, ABC, Fox News, Donny Deutsch's and The Big Idea to name but a few.
Both The New York Times and Newsweek have also featured him in their newspaper publications.
Joe Vitale has used the very methods in Money Beyond Belief to attract millions of dollars into his life and to alter his lifestyle in ways that most people only dream of.
Who is Brad Yates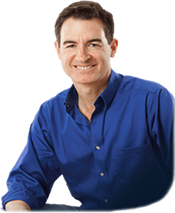 Brad Yates is an internationally recognized expert at the art and science of EFT (Emotional Freedom Technique).
Although he often injects humour into his tapping sessions his success rate when dealing with clients has made him a household name within the EFT community.
He is also a well-known self improvement author and speaker as well as having a growing social media profile though such platforms as Facebook and YouTube. His YouTube channel continues to grow as word of mouth recommendations spread.
Yates has built a reputation for being able to teach people fast, effective methods for improving their lives quickly. He is considered an expert at helping even the most sever of sufferers overcome crippling fear and stress.
He has taught everyone from dock workers to CEOs and professional athletes as well as award-winning actors how to reach their goals more effectively.
Brad has filmed more than 600 instructional videos, authored the bestselling children's book The Wizard's Wish and appears in the popular self-improvement film about the amazing benefits of tapping – The Tapping Solution.

Get Money Beyond Belief Now!
Brad Yates Tapping for Money Video
Abundance
Like Bob Doyle, Mr Yates is a firm believer in The Law of Attraction which states that we are literally attracting things, people and experiences into our lives because of our predominant thoughts
and especially due to our feelings.
If we are feeling negative about money or unworthy of having it he believes that we cannot attract it into our lives. In fact, we actually repel it!
So in order to get a clear focus on abundance and have what's called a prosperity consciousness it is necessary to remove our emotional blocks around money and wealth.

Get Money Beyond Belief Now!
EFT and Money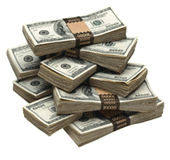 Brad Yates has devised a way of using EFT to remove the emotional blockages we have about wealth and money, which is now known as Abundance Attracting EFT Emotional Freedom Technique.
He has some great audio programs where he has actually lead a group of people through the techniques during a few teleconferences.
Money Beyond Belief Abundance Attracting EFT
Brad Yates has teamed up with Joe Vitale to create 151 minutes of mp3 recordings that walk you through some powerful EFT techniques to attract money. The recordings are taken directly of a teleconference called "Money Beyond Belief".
In the recordings Yates guides you through the Abundance EFT tappng techniques while getting you to repeat affirmations designed to bring up your resistences to having money, wealth and prosperity.
Once your resistances and negative attitudes surfact the simple act of tapping on specific points of the body releases the negativity permanently!

Get Money Beyond Belief Now!
Conclusion
Using Abundance Attracting EFT works!
It is designed to remove negative emotions and it does just that! But can you really use it to create wealth?
Well, I can say that even after the first listen I did clear away many emotional issues around money (some I didn't even know I had!) and my thinking was much clearer.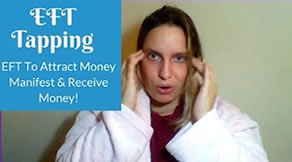 The Money Beyond Belief sessions are easy to follow and some affirmations are brought up that deal with issues you probably don't think you have.
But once you start voicing the affirmations you can feel the negativity in your body. Soon you feel it dissipate as you continue to tap.
EFT for money However, during the session I had to stop the recordings several times because certain issues began to surface that had nothing to do with the statements Brad was making. This is not a bad thing, as clearing on his affirmations where actually allowing these deep seated beliefs to surface in my own consciousness. It's just that a personal consultation would have probably brought up a lot more as I followed my own train of thought.
However, the price for personal consultations would probably have brought up its own resistences!
Having said that, I did clear a lot of old baggage and the MP3s are really designed to teach you how to use EFT to gain financial freedom rather than covering every possible emotional issue you may have with money! I now use it on my own having acquired the skills from listening to the MP3 sessions.
I must say though that only a few days after I finished my first listen my finances did take an upturn and at the time of writing they continue to do so. Therefore, if you are open to using a more unconventional approach to aquiring wealth you really should check out Brad's work. It worked for me and if it doesn't work for you then just take advantage of the "no questions asked money-back guarantee"!
Get Money Beyond Belief Now!
More from Brad Yates
To check out Brad Yates Home site where he offers "Success Beyond Belief" click on the link below.
Success Beyond Belief